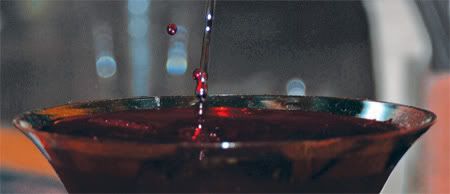 My brother drove down to the city the other night and as we were walking around the West Village we stuck our heads into
Massif Central
on Bleeker. We were pleasantly surprised by what we discovered. Blake was the guy behind the bar who put quite a bit of effort in mixing the perfect cocktail before handing it off to its thirsty recipient. I was really fond of the presentation and taste of each of them.
So I came back a few nights later to pay a visit to the creator of these not-so-New-York cocktails. Lisa Rodasta hails from San Fransisco and her work behind the bar reflects her origin. She is incredibly detail-oriented. Her drinks are beautiful and carefully thought out.
She brought two of her recipes to life for me--neither are currently on the Massif Central menu. She clearly has experience with interest in her cocktails, placing the drinks she made for me out on the bar with photo-friendly touches.
She presented me firstly with a "Fleure Rue de Perry." It was a fragrant herbal and citrus-y drink made with rum, Pisco (a South American liqueur distilled from grapes), chamomile, lemon juice, and pineapple. Despite being busy in its champagne flute, the fresh dill garnish was a nice visual.
Her second creation was a "Le Roquefort," which included her own beet-infused vodka. She touched the vodka with a splash of Hendricks gin, Gruner-Uiliner (Lisa informed me that this is a hard-to-come-by Parisian apartif), and sweet vermouth. Along side the cocktail, three skewered Roquefort-stuffed nyon olives are served, meant to be eaten between sips. Suprisingly, it works well.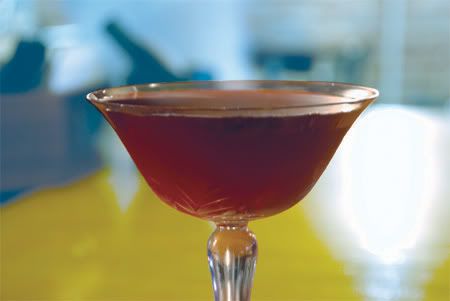 If you find yourself in the West Village and feel like breaking away form the typical New York cocktail creation, stop in Massif Central and take a stab at Lisa's San Fransisco inspired drink list.