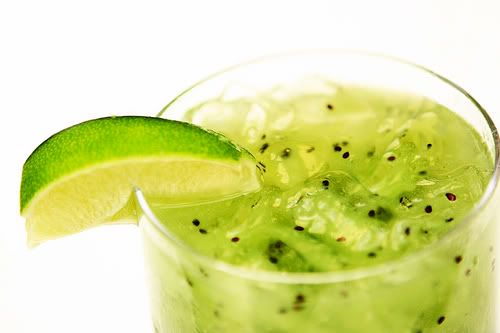 I'm looking out my window at the Empire State Building on a Saturday in October. The sun is out and it's--what?--eighty degrees. Yeah, pretty unseasonably warm. But I'll take it. I love this weather. Let me finish up this blog post so I can get out and enjoy the day.
A nice weekend, actually, for a margarita. What do you think?
It's probably not a surprise to you that the margarita happens to be the most popular mixed drink in America, warm weather or not. But I'm sure this late-year heat wave doesn't in any way reduce the number of margarita drinkers out there. Hey, it just happens to mix well with the sun, just like it's key spirit ingredient, tequila.
So I'm going to introduce you to a drink I put together while in search of a delicious cocktail with a nice bright color that gets that way completely naturally, without any food coloring or brightly colored liqueurs. Thinking tequila (as I often do these days), I put together a series of margaritas with different pureed fruits. The one that stood out with the best color and flavor was the margarita made with kiwi. It's a very cool looking drink, very bright green filled with the black specs of the kiwi seeds. Hey, not to mention that it's delightfully delicious.
This, my cocktail-loving friends, is the recipe for my Kiwi Margarita: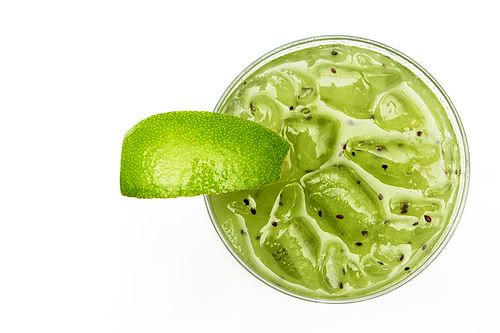 In a rocks glass, mix about 1 ounce of fresh kiwi puree (hit the puree button on you blender just long enough to smooth out the fruit) with 1 ¼ ounce premium tequila, ⅓ ounce triple sec, a large splash of fresh lime juice, a large splash of fresh lemon juice, and a touch of fresh OJ. If you want to add an extra bit of sweetness to it, sprinkle in some raw sugar. Overflow the glass with ice and shake it up really good. Stick a straw in it with a slice of kiwi or lime and you're ready for a sunny day in October (or January or July). This one's easy to overdo, so please remember to keep your head on. Go ahead and enjoy.