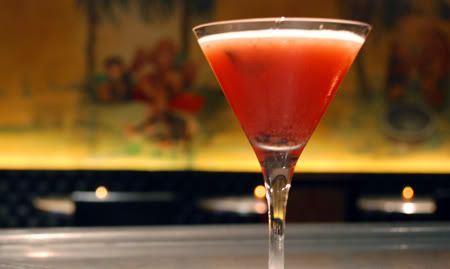 So for my first post, for no specific reason other than the heck of it, let's do tequila!
For those of you that may not know, tequila is a high-alcohol content spirit made in specific regions of Mexico from the Blue Agave plant, a desert succulent. Tequila is usually bottled and served immediately after distillation, but, like Scotch or brandy, may be aged to improve its quality and flavor. However, unlike other aged spirits, it's aging process should be relatively short due to the likelihood of the Tequila deteriorating at around five years or more.
Probably the most common cocktail made from tequila is the margarita. Although its origin is in dispute, the drink has been around since the late 1930s to the 1940s and was probably invented in--you guessed it--Mexico. Classically, a margarita is made with tequila, triple sec, fresh lime juice, and sugar. It can, of course, be served in a glass rimmed with salt (as is traditionally the case) if your taste buds so desire a bit of a savory-ness added to the pucker.
So for now, let's leave the margarita in the mixology history books and try something a bit more recent. One of the signature cocktails on my drink menu at The Monkey Bar in midtown Manhattan is the Blueberry Joe. It's certainly a much more modern drink, combining a few unlikely ingredients to create a perfect blend of flavors. The Blueberry Joe was conceived while I was working the bar at the New York restaurant Sapa. Working on the invention of the daily drink special, I was thinking of putting a twist on the classic margarita by muddling some fresh blueberries when one of the food servers mentioned being a fan of coffee drinks. I was in an adventurous mood and decided to throw in a shot of strong, just-brewed, chilled coffee into the mix. I substituted lemon for lime, which I thought would pair better with the coffee and open up the flavor of the blueberries, and played around with the measurements. What I came up with was surprisingly fresh, delicious, and laden with a touch of caffeine. If you can find it in yourself to be a bit daring this one time, there's a good chance you may end up with a new favorite cocktail.
And here's the recipe:
Blueberry Joe




¼ cup blueberries
1 oz chilled fresh coffee
Juice of ½ lemon
½ oz simple syrup
1 oz tequila
⅓ oz triple sec

Start off by pouring the blueberries into the bottom of a cocktail shaker. Smash them up really well with a muddler. Add the tequila and triple sec. Squeeze in the lemon juice, add the simple syrup, and pour in the coffee. Shake well with ice.

Now strain it out into a chilled martini glass. Make sure that you don't strain it too well, or you'll lose a lot of that blueberry pulp, which adds texture and acts as a garnish for the drink.